Attend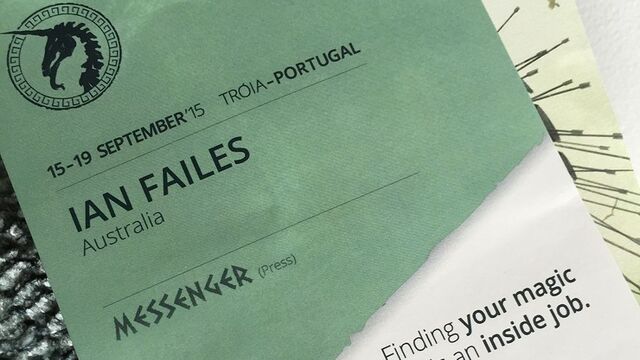 Follow this link and read the THU Tales with Pedro Ragazzi
-
I've been writing about the visual effects industry in some form or another for over 10 years. Most of what I traditionally cover is the incredible implementation of art and technology in filmmaking, predominantly in 'how-to' articles that typically focus on blockbuster features.
In the past decade I've seen the industry change substantially, from uncertain times, to great positiveness and anywhere in between those two moods. Other people, of course, live and breathe these changes - I am really just an observer.
One thing I have found, though, is that in discussing the industry for stories, or in attending industry events, visual effects practitioners have often found it difficult to talk honestly and openly about the industry (which many clearly love).
Artists at the early stages of their careers in VFX, attracted by the glitz and glamour, can also find it difficult to stay motivated with so much to learn, so many paths to take, and the prospect of some uncertainty. I hear it can be the same in the gaming, design, animation and advertising industries, too.
But then I heard about Trojan Horse was a Unicorn. And then, last year, I attended the THU event in Troia, Portugal. And I discovered a place where all sorts of creative people can talk and share - honestly and openly - and feel extremely positive about their choice to be an artist.
I truly believe that's a rare thing, especially to come from what many might think is just another 'conference'. Yet the organisers of THU have somehow pulled it off.
The reason they pull it off is down to many things, but one of them - clearly - is the choice of speakers at THU. These are artists who have been there. They might have 'made it' now but they haven't all necessarily had an easy way in.
The next reason is that attendees at THU aren't just there to listen to the speakers talk. Even if they were, it would probably still be magical, but at the event you actually get to engage with the speakers; to talk to them like real people at almost any time of the day (seriously).
It's an absolute bonus that at the same time you get to engage with other attendees at Trojan Horse as artists, too, which is also remarkably more manageable than many other conferences I've been to since THU's attendee numbers remain limited. Some of these attendees, who hail from around the world, are now friends for life.
When I attended THU in 2015, some of my VFX idols were there - Scott Ross, a legend in visual effects administration; Shane Mahan, a legend in practical make-up effects; Kevin Mack, a legend in VFX design. I also quickly made friends with legends from the 3D art, illustration and concept design worlds, people like Victor Hugo and Ian McQue. It isn't too much to say that the experience changed my professional life and my perspective on it.
Which is why I'm excited all over again to have been asked by Andre Luis (if you don't know Andre, he's THE guy behind Trojan Horse), and his team to talk to artists who have been to the event and present their transformative stories for you to read here, at the THU Universe.
I'm going to be speaking to both attendees and speakers about their THU experience and the impact it's had on their careers, their lives and their art. You're going to find out about the hard parts of being in this creative world, and the good parts too. You'll also hear exactly how THU has changed people's lives and just what the concept of the 'Tribe' that often gets talked about in relation to THU actually means (hint: it's real).
You might have heard Trojan Horse was a Unicorn is an event unlike anything else. You heard right, and I'm hoping to share with you why.
By Ian Failes
-
Follow this link and read the THU Tales with Pedro Ragazzi