A warm voice greets us from the dark digital abyss: "Can you see me now?" The joys of video-conferencing vanquished, we sit down to chat with Daniel Nikoi Djanie, Senior Lead Artist at Wooga and THU Tribe member from the *very* beginning. From Germany, to adventures in China and an art career spanning a variety of formats, his journey has been an interesting one. Join us in Part I of our conversation, as Daniel shares with us what led him to the industry, finding your voice as an artist, art influences and more.
Tribe Alumni
Daniel is one of the few members of the Tribe who's been with THU from the very beginning. Having attended his first THU Main Event in 2013 (its inaugural year), as the runner up in the Golden Ticket Challenge, he's now been to all 7 editions. When talking about that first one: "I went there without any clue of what to expect, other than 'it's something to do with people who appreciate art.'" Then he experienced the magic firsthand: "the right people and chemistry, at the right time, with the right topics. It was magical and had a really big impact on me, that's why I keep coming back." Being with THU for so long, he likens it to being in a real relationship, a healthy one where he feels he can share his views and opinions. "And this year I'm not just a participant, I'm contributing with my art." Those new illustrations and depictions of the Tribe on our website? Yep, those are Daniel's handiwork at play. As an artist we admire and someone who's been with us for so long, he's been a part of our evolution. We couldn't wait to have him contribute!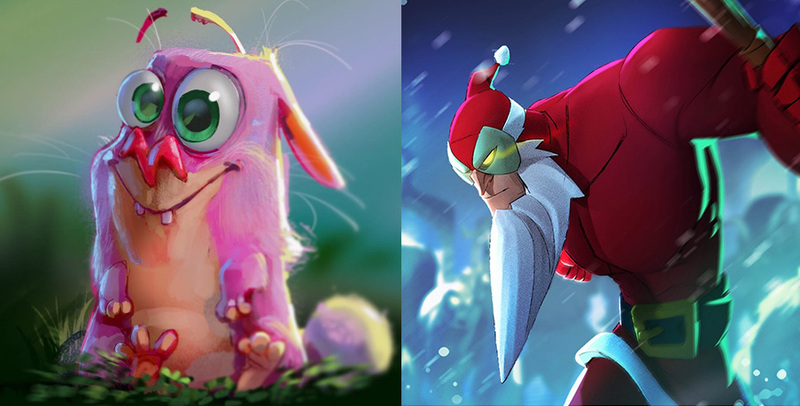 The Beginning
Humble. The word that pops to mind as he shares: "I just do my job. It's not super special." A pause, "but I love it and I do it with passion, and maybe that is interesting." Yes, that and more. When asked what got him started in art, the story will resonate with many: "I was drawing all the time, as of the moment I could find a pen, a paper, a wall." It came as no surprise to those who knew him that he would go on to pursue art. Ironically, the path wasn't so clear to him, as he didn't know what kind of jobs were possible as an artist. What changed? Discovering the world of cartoons and animation. Back in the 90s, before the wonders of the internet, tracing and replicating what he found in the modest comic book offerings in Germany is how he began honing his craft. Gravitating towards character design, and lacking interest in traditional education, he secretly submitted his portfolio to a design school and to his surprise (he hadn't yet completed high school, a prerequisite for entry at the time) got in! So, off he went, from rural Germany, to Frankfurt, to study Communication Design at the Academy of Visual Arts.
Breaking into the Industry
This world of design, advertising and typography was far from the one he knew. That being said, he still loved it because finally he felt challenged. "But I always knew that just design, without the storytelling part wasn't for me." Whenever he was given any freedom, he pushed it towards comics and animation. And while still in school, he finished his first comic book, which was published in Germany and provided the launchpad for his career: "I got my first design job, children's book illustration and comic book jobs off the back of that." Finally, paid work! Freelancing for four years in mostly fantasy illustrations and cartoons, he was then offered the opportunity of a lifetime: to move to China to direct animation and work on character design. "I didn't speak Chinese, my English was non-existent, and I was scared. Very very scared." But he followed his father's advice: "You'll regret it if you don't go. What's the worst that can happen?" So he went, despite his fears and it changed his life. What started as a 3 month project, ended up being a 2 year gig, after which he moved on to work at EA in China for another 2.5 years. "It was great. Going from illustrator and comic artist to game artist - working on both concept art and final assets, and wearing multiple hats, all design related." But he was still one of many on a team, reporting into an art director (who he generously thanks for her teachings). Moving back to Germany for personal reasons, he continued working in games, but this time as an art director and lead. What kind of games? Browser based and mobile mostly, and that suits him just fine: "I liked that stuff - simple shapes, bigger than life expressions and there is always a storytelling aspect." Essentially, "when drawing and storytelling join forces, that's where I feel the most comfortable" he tells us.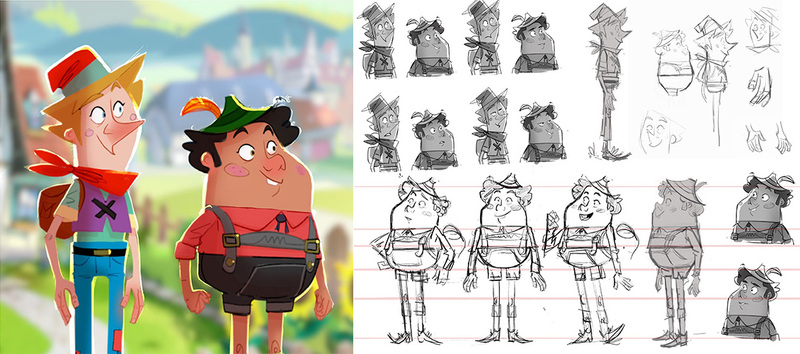 Art Style
Perusing Daniel's Instagram, you'll notice a variety of different work, but often the pieces embody a fairly clean, minimalist aesthetic. When asked about it, he describes his artistic style as having a tendency towards "very shape drive, dynamic, simplified designs." But he sees his style as more to do with the methods and way of thinking he employs, than a singular aesthetic. It was in China that he had a turning point: "I think every artist goes through that. You're confused, you don't know who you are, you don't have your own voice, you always think you have to be like someone else. But then there's a point where you realize you already have a style. It's your personality, it's what you know, it's what you like. Discovering that, that was mind-blowing." His revelatory moment came when working on a very tight deadline. Pushed to produce something very quickly, he defaulted to what felt natural and effective. Seeing how successful that was and that the same approach worked every time (whether applied at work or to his personal projects), he realized he had just discovered his style. "Once I found that, I could take every job, every commission, I felt really free, not under pressure anymore. Finding your own voice - it's like you're playing an instrument and suddenly a nice melody emerges, finally it no longer sounds like crap!"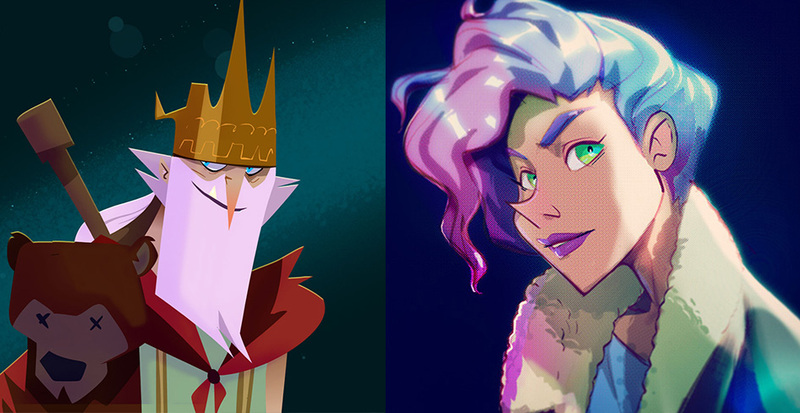 Influences
Daniel loved comic books growing up, but "usually they were pricey, you couldn't afford them, and often you got some not so spectacular ones in Germany at that time." The medium with the greatest influence on his work? Animation. "When I was younger, they didn't have the name anime, but most of the cartoons in Germany back then, ones like Heidi and Vicky, were influenced or created by Japanese studios." What stood out for Daniel was how effective very simple animation (working with stills and dynamic poses, rather than full animation) could convey so much. "Like speed lines, someone is standing there [bow drawn] and not moving, but everything else is moving in the background. It felt dynamic even though the character wasn't actually in motion. As a kid, I was fascinated by that." Later in life, he saw the parallels in design language - the way you can use simple shapes to communicate energy, direction of energy, physics, moods and feelings. Once you simplify, he says enthusiastically "you can tell bigger stories because people need to use their imagination to fill in the blanks." For example, you could paint the idea of a tree, instead of a realistic rendition of it: "The idea of a tree can be very simple, it can be just a triangle and depending on how you use it, suddenly you can have a forest. And then you add colours, and some mood and people understand what they're seeing right away. That's powerful."
But that's just the tip of the iceberg. In Part II of our conversation, "Becoming", we settle in with Daniel for real talk about gaining confidence, tools of the trade, lessons learned and embracing your true authentic self. Stay tuned for that installment later this week!