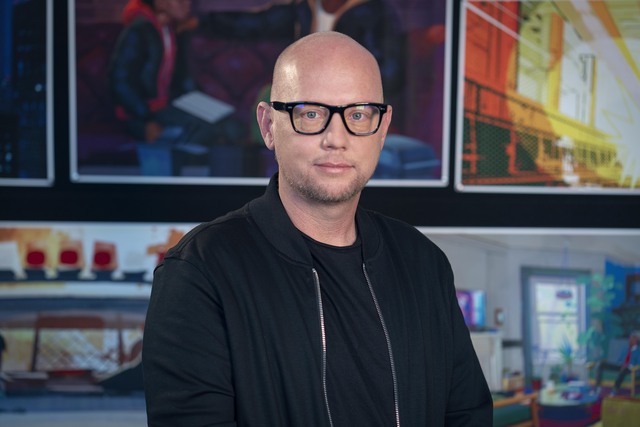 Justin K. Thompson is a director at Sony Pictures Animation. 
Thompson most recently served as the production designer for Sony Pictures Animation's latest feature film, the Academy Award® winner "Spider-Man: Into the Spider-Verse." For his work on the film, Thompson has received an Annie Award from ASIFA-Hollywood for Outstanding Achievement for Production Design in an Animated Feature Production and a nomination from the Art Directors Guild for Excellence in Production Design for an Animated Film.
Previously, Thompson served as the production designer on Sony Pictures Animation's "Cloudy with a Chance of Meatballs" and its sequel "Cloudy with a Chance of Meatballs 2." In his role, Thompson created the look of the beloved film series.
With over 20 years of experience in the animation industry, Thompson has  contributed his work to some of the most groundbreaking television programs. Over the past ten years, he has made the transition to visual development and production design on digitally animated feature films.
Prior to joining Sony Pictures Animation, Thompson worked at The Orphanage Animation Studios, The Jim Henson Company and Lucasfilm Animation. His credits include "How to Eat Fried Worms" (art director), "The Power of the Dark Crystal" (visual development artist) and "Viking" (art director).
Thompson spent five years at Cartoon Network, receiving various credits on such television programs such as "The Powerpuff Girls" (key background design/storyboard artist) and "Samurai Jack" (key background designer). He also served as a visual development artist/background supervisor on Cartoon Network's critically acclaimed hit, "Star Wars: The Clone Wars," for which he was awarded an Emmy® for Outstanding Individual Achievement in Animation. Thompson was also part of the creative team that brought "The Powerpuff Girls" to the big screen, serving as both visual development artist and key background designer on the feature.
Thompson has also served as a visual development artist on a number of projects at Disney Television Animation, DreamWorks SKG Television and Film Roman.